1969 - 1983 M200 s/n55 F-CDKT Challes les Eaux France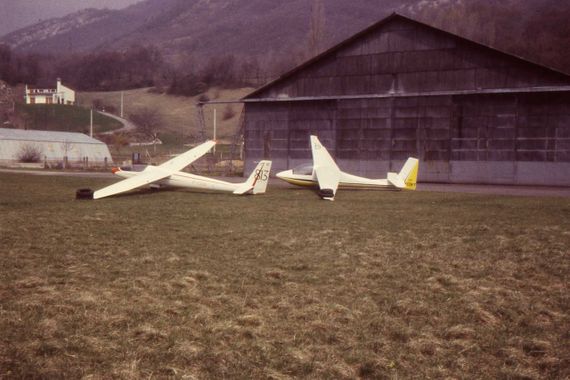 Its first appearance back in the seventies at Challes Les Eaux France.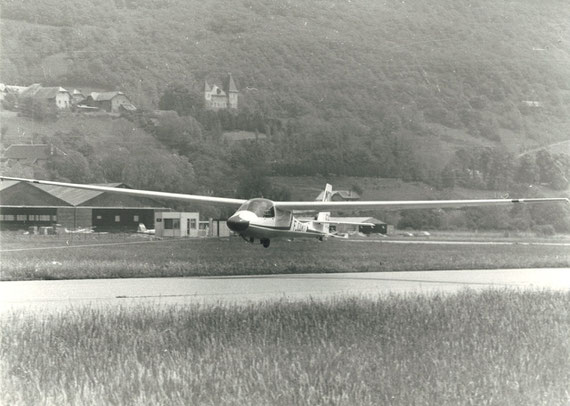 F-CDKT on aerotow at Challes Les Eaux in the eighties.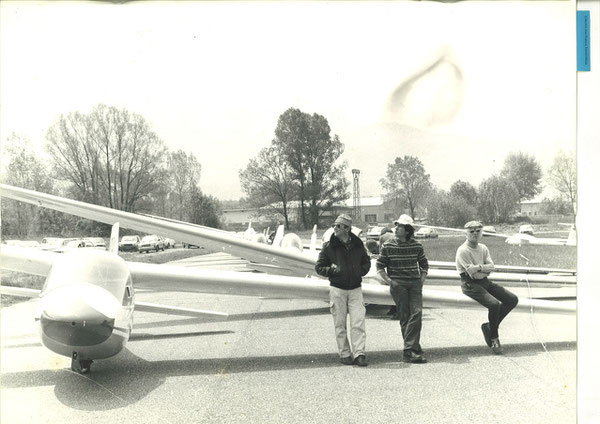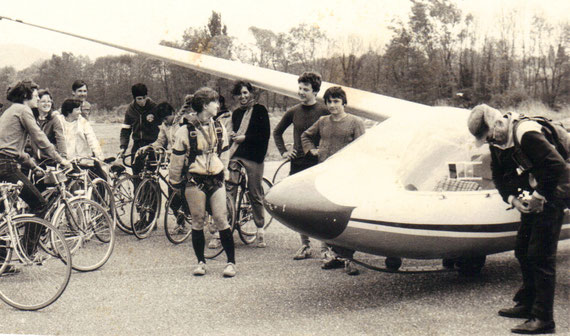 1983 - 2006 re-registered BGA2978 Pocklington United Kingdom
F-CDKT prior to start at Pocklington aerodrome still retaining its French registration.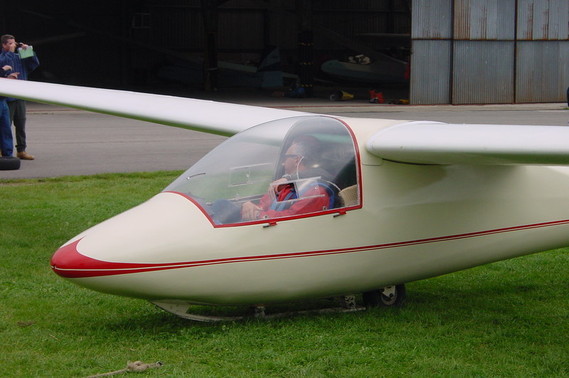 BGA2978 in the nineties with its refurbished fuselage.
Below you see a few pictures of the preparations for the trip to the Netherlands. The trailer needed some customizing to get her a bit more watertight!! Luckely we didn,t met the police during our trip home.
Pocklington airfield is a nicely situated airfield in the midlands area 40 Km located to the west of Hull.
It was a nice trip on the ferry "the pride of Hull" and it was a short drive from the port to the airfield. Due to the early arrival of the night ferry, we arrived on the airfield before the owner of the M200 did. After he arrived, we prepared the huge trailer for the trip home.
The trailer was huge indeed, and was not protecting the glider against the influence of the harsh British/Dutch weather during the trip to come.
As you can see, some tape is added on several points of the trailer.
As we found out later, recently the water coused some problems on the glider.
This was all written down in the journal, and mentioned by Bill before the final transaction.
Now the restauration is finished, the damage coused by the water did coused some damage.
The lunch was typical British, fish and chips. It tasted wonderfull.
The support given by Bill was exellent.
He made it possible to realize this transaction.
Thank you Bill.
2006 -....... re-registered PH-1513 Hilversum the Netherlands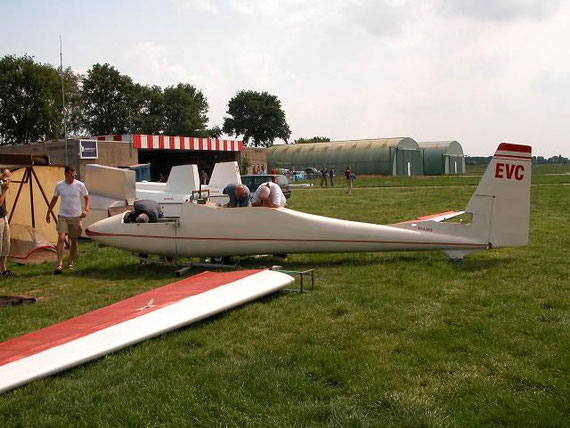 Below and above you see the first pictures of the rigged glider.
This was done on request of the BGA inspectors in the Netherlands to get a good overall inpression of the glider.
The weather was co-operating, and we had quite a few laughs.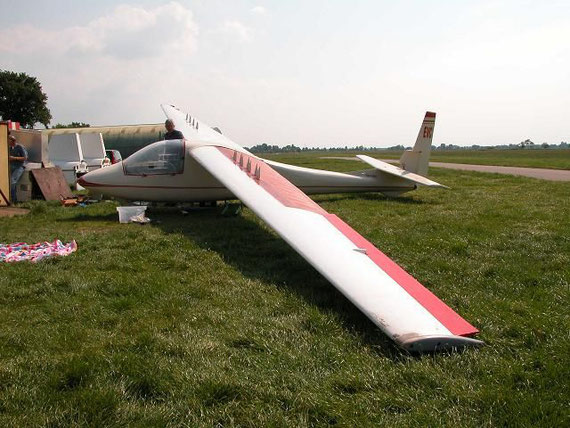 The first inpression of the overall condition of the glider wasn,t too positive.
The kite looked a bit battered, and the paint came loose on several places.
The BGA inspectors werent too happy with what they saw at first.
Now that we have paintstripped the glider, the amount of work is visible.
As you can see in the restauration section, it all went well.
No showstop items were found, but it was quite a long way to go.
It took six years to complete the glider.
2012 M200 s/n55 PH-1513 Hilversum the Netherlands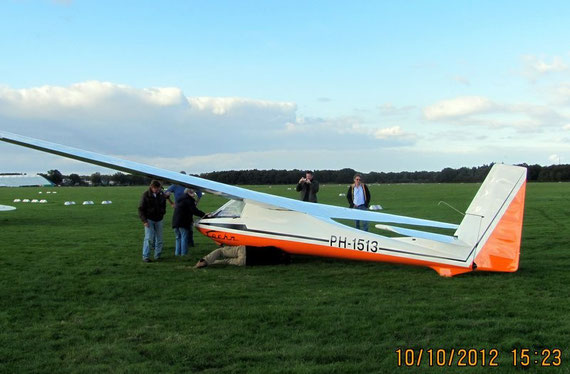 PH-1513 after its first post restoration flight. Checking for damage and or other discrepancies. All seems to be i good shape!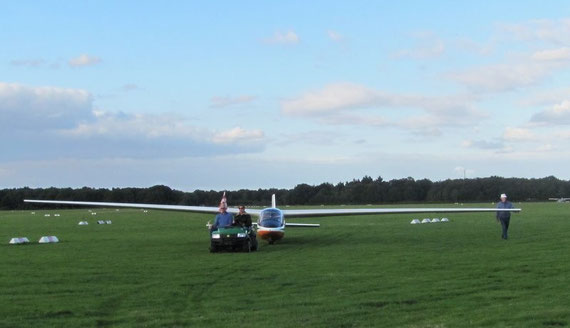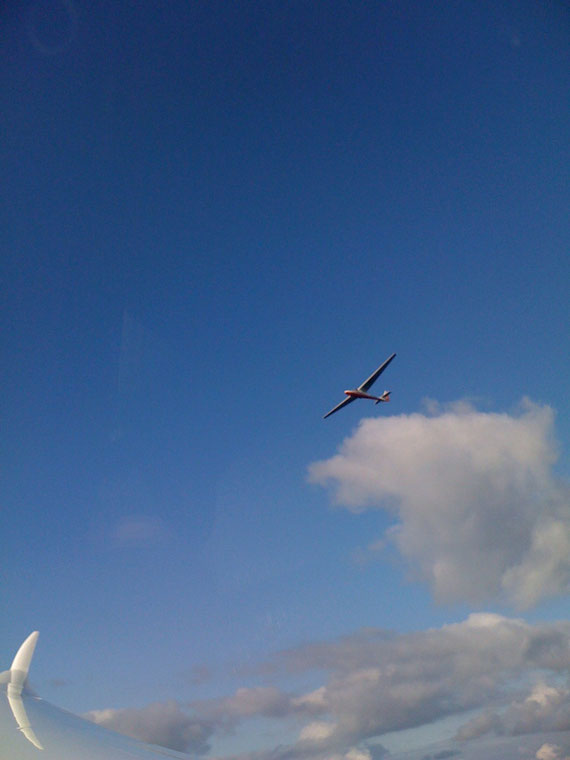 The M200 PH-1513 where it belongs! Above the plastic ships!!